Notes
At this point, your end-users should have already installed the sensor/agent/installer to their computer/pc/laptop and it is successfully running. If they haven't, this article might have the information on step by step guide on how to self-install the sensor/agent/installer package to their computer/pc/laptop.
The Endpoint Next-Gen Antivirus powered by Crowdstrike will automatically facilitate remediation and response to any detection of threats to your environment.
The Endpoint Next-Gen Antivirus powered by Crowdstrike uses its endpoint sensor/agent/installer to detect ransomware/malware behaviors and then terminates the offending process before it can accomplish its goal of encrypting files.
This is done using CrowdStrike Indicator of Attack (IoA) patterns on the endpoint. These work both online and offline and are effective against new variants and polymorphic variants of ransomware that often bypass legacy antivirus.
From this New Detection, you get to see in detail the new detection of the activities and tactics, techniques, and procedures (TTP) that are identified as malicious and produce an alarm. This report delivers contextualized information that includes attribution where relevant, providing details on the adversary and any other information known about the attack.
The report is also available in other views in your dashboard:-
To see all detections of your environment, in your ArmourZero platform;
Step 1 - New Detection.
Navigate: Services > Product Dashboard > Endpoint Next-Gen Antivirus powered by Crowdstrike powered by Crowdstrike > Activity > New Detection > View all.
Step 2 - View the list of detection.
You will now get to see a list of all detection recently identified as malicious to your environment.
Step 3 - View the list of detections and check the status.
This detection requires validation by our Security Operation Centers to respond if the detection is a legit attack or not. The validation request status will be shown on this page.
Step 4 - Click "View".
Click on View to expand the detection for additional details. A further details execution report will be open. The additional details will be shown on your screen for your reference.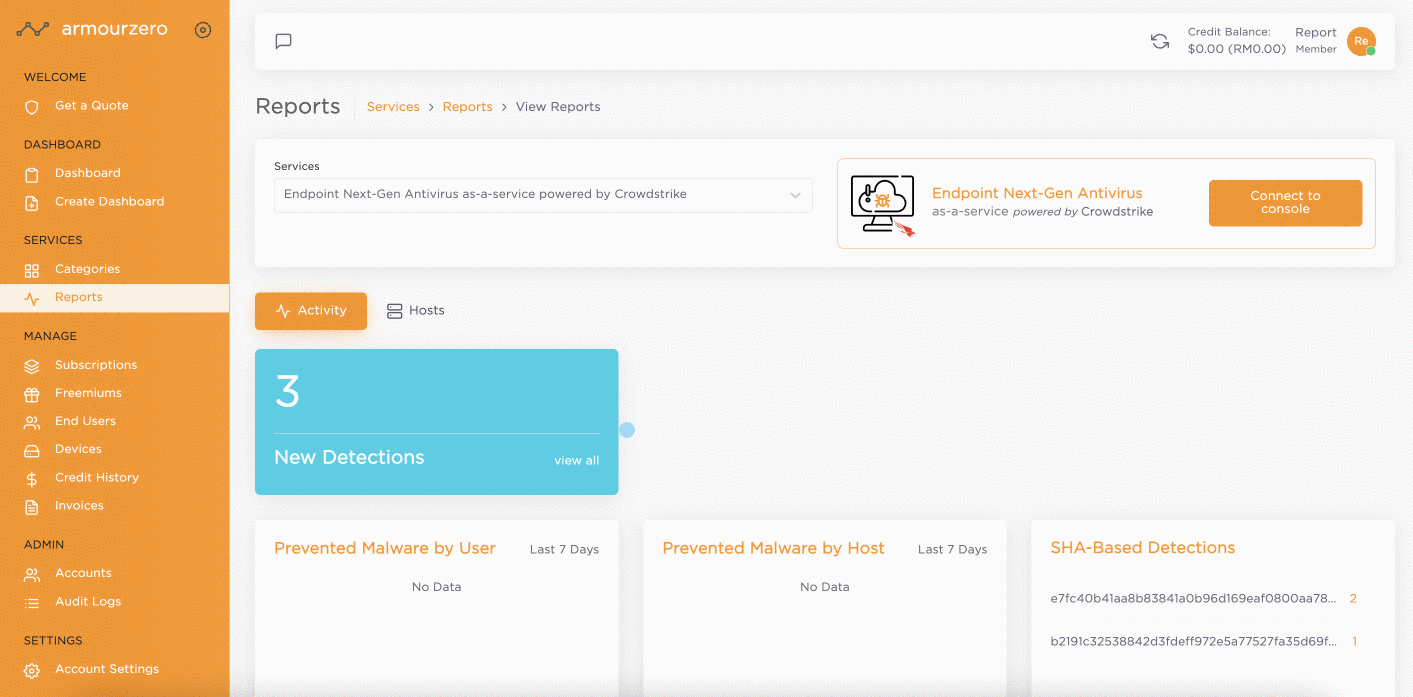 Even though there is no action is required from your end, it is still good to understand to know the true meaning of those terms in the detection verification status:-
| | |
| --- | --- |
| Detection Status | Definition |
| New | New detection was identified as malicious and has been blocked by the sensor/agent/installer. Yet to be verified by our personnel. |
| In progress | Detection verification is being worked on by our personnel and an update will be provided as soon as it is completed, or if more information is required. |
| True_positive | The detection is a verified legitimate attack that triggers and produces an alarm. |
| False_positive | The detection is verified as not a real attack. |