Web Protection powered y DNSFilter gives you the ability to filter bad or unwanted content at the DNS level. DNS filtering works by categorizing every single domain you attempt to access and cross-referencing those categorizations and domain names with policies you've determined you want to block. At ArmourZero, we enforce up-to-date best practice policies that continuously align with the necessary requirements.
Web Protection powered y DNSFilter employs an agent to enable the services.
Therefore, ensure that your employees have installed the agent on their devices. If they haven't, please read on;
This page showcases five sections featuring various widgets:
Connect to Console
Connect to Console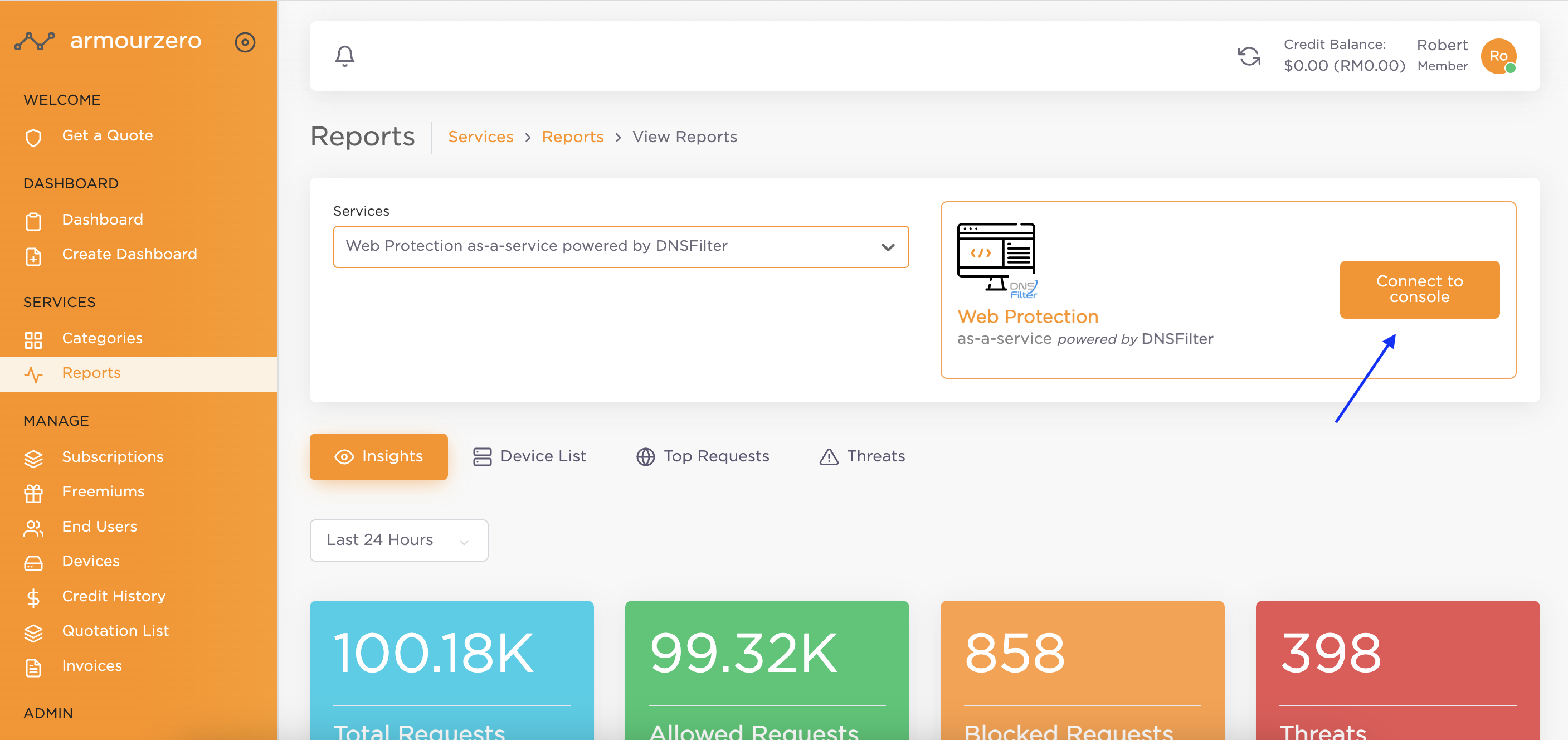 While you have the option to request access to the DNSFilter console, our SOC team takes charge of the administration and monitoring of your Web Protection powered y DNSFilter console as part of our service package.
It's important to note that all the information on this page is sourced directly from the DNSFilter console.
Insights
Insights offer a comprehensive overview of ongoing activities within your environment. This feature provides a day-to-day tracking mechanism, allowing you to delve into details as needed or desired.
Device List
The Device List dashboard provides a comprehensive inventory of all devices that have successfully installed the sensor, agent, or installer.
Top Requests
This page presents a compilation of the most frequently requested domains across your account or can be filtered based on the utilization of Web protection powered by DNSFilter. You have the flexibility to adjust the timeline and filter requests based on whether they were blocked or allowed.
Threats
The Threats page mirrors the Top Requests section but is categorized by threat domains. This valuable list showcases threats that have been successfully prevented from access by Web protection powered by DNSFilter.